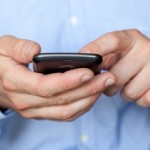 We have never known a world other than one of constantly improving digital technologies and are always connected to the internet through our smartphones, tablets and other mobile devices. We feel more exposed without our mobile devices and think that our phone is more telling of our personality than our wallet. If you are a smartphone user, you know exactly what we are referring to and chances are that you browse through your app store/ play store quite regularly and fully enjoy products and services that are only a click away!
Recent studies conducted by the US Pew Research Centre indicate that at least one in three American adults use mobile banking in their day to day lives, a rise of almost 100 % since 2011. The figures show that 32% of US adults and 35% of mobile phone owners bank using their mobile phones in 2013 as compared to an 18 % usage in 2011. Research also tracked the continuing growth of online banking, with some of the biggest increases seen amongst the young as the figure soared from a 55% in 2010 to a 66% in 2013. While the numbers dropped as the user's age increased, the usage was found to be fairly higher by those who continued their education to college or university level than by those with no high school diploma.
We love the convenience of online shopping and, as we become increasingly sophisticated, we expect payment methods to continually evolve to keep up with, and even lead, our demand. It's evident from the flurry of new mobile banking offerings in the recent months that handsets provide ways for banks and card processors to embed themselves far more deeply within their customers' lives through payments, products and customer service. SNFC, a French railway operator recently installed a new system that allows customers to pay for travel on high speed train using their mobiles. Various banks and card processors around the world are now offering mobile credit card processing and a digital wallet designed to gather all your credit cards into one place to help you send/ receive funds. And, whether they are a small, mid-sized or a large business, business owners are now turning to software companies to create mobile payment technologies that accept mobile credit card processing in order to keep up with the trends and to attract new customers.
While mobile handsets might be considered far less secure than more conventional means of banking at the moment, they can bring far greater security if they are integrated properly and harnessed adequately to protect customers and minimise fraud. More Americans are turning to their smartphones for making payments everyday and businesses will soon benefit from increasing their sales through mobile credit card processing and being able to interact with customers via their phones.