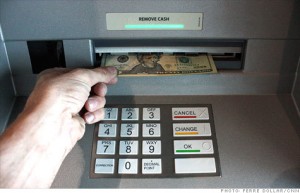 Starting in October 2014, MasterCard's ATM cards will not feature its zero-liability policy. This means that in the case of a fraudulent charge, the consumer will not be charged, as was the case in the past. While debit and credit cards were already on board, MasterCard did not originally include ATM cards in this plan. ATM cards have always been at risk of fraudulent activity, and MasterCard has made it easier for the consumer to use their card without fear.
The December 2013 data breach at Target had a lot of people panicking over the use of plastic payment cards. Many reports only focused on the problems with fraudulent activity in relation to debit and credit cards. However, ATM cards have a high risk of fraudulent activity, and the fraud does not even have to be committed by a tech-savvy person.
Also included in MasterCard's zero-liability policy is the use of debit cards that require PIN numbers. The vast majority of US debit cards require these numbers, and while they are harder to steal than an ATM card number, it can still be done, as witnessed in the Target hackings. While the customer will not be charged for a fraudulent transaction, it does not necessarily mean that the merchant is off the hook. Merchants are charged a "chargeback fee", which can result in fees many times greater than the disputed fee. For the best management of these incidents, you need the services of an experienced merchant account processor, like highrisk-merchantaccount.com. We at highrisk-merchantaccount.com, or HRG, are experienced in high-risk accounts, which typically garner the most chargeback fees. Chargebacks can often come as a surprise, and a costly one at that. However, with the services of HRG you are able to help curb the cost of chargebacks, as well as keep your customer safe due to our top-notch security, software, and terminals.
MasterCard has decided to apply its zero-liability policy to ATM cards and debit cards which require a PIN. It is a great step, not only for MasterCard, but also for consumers who are anxious about using plastic cards for payment. While customers may be in the clear of fraudulent charges, merchants are at risk of chargeback fees. This can be avoided by using a good merchant account provider, such as HRG.
For more information, contact us today!