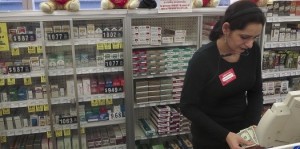 The nation's second largest drugstore chain, CVS, announced on Wednesday that it plans to stop selling cigarettes, cigars and other tobacco-related products by October 1st of this year. Why? Because CVS wishes to transform itself into the health-services company it has always envisioned itself to be.
Larry J. Merlo, president of CVS Caremark, said that "the sale of tobacco products is inconsistent with our purpose" and that he hopes the move will "help people on their path to better health." Despite this, it is predicted that the move will strip the company of $2 billion of its annual revenue, when taking into account the money made from tobacco itself and other goods that tobacco customers typically purchase. The amount lost equates to around 3% of CVS' company revenue, which was over a staggering $123 billion in 2012.
The company, however, do not expect this change to affect the number of its employees. There are about 203,000 employed with CVS, 7,000 of whom work in Rhode Island.  Not only will employees not be affected by this decision, but those with electronic cigarette merchant accounts are highly likely to benefit from it. The lack of availability for tobacco products in well-known drugstore brands like CVS could potentially result in the public turning towards electronic cigarettes and the e-cig shops that provide them. Plus, the fact that CVS are now focusing on dissuading American citizens from tobacco is likely to influence them to use electronic cigarettes, instead.
Although the company have to face the loss in annual revenue from their decision, they are still adamant that they are doing the right thing, and President Obama himself agrees, too. He said, "I applaud the news that CVS Caremark has decided to stop selling cigarettes and other tobacco products in its stores, and begin a national campaign to help millions of Americans quit smoking instead." He continued with, "As one of the largest retailers and pharmacies in America, CVS Caremark sets a powerful example." Also quick to jump on the supporting bandwagon was the American Medical Association. They said, "We commend CVS for putting public health ahead of their bottom line and recognizing the need for pharmacies to focus on supporting health and wellness instead of contributing to disease and death caused by tobacco use."
Although many are disagreeing with the move in a bid that "smokers will still smoke, and turn to other companies who sell tobacco", it is highly likely that more are supporting it. With many American citizens turning to the healthier alternative that is electronic cigarettes, CVS are only influencing this, and doing their best to promote the healthy lifestyle that Americans should have been living in the first place.
For an E-Cig Merchant Account Click Below