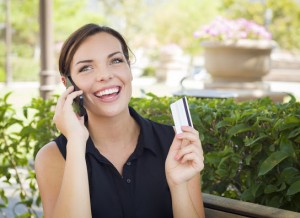 With the rapid rise in technology and a little something called e-commerce, more and more people across the globe are deciding to open online businesses. Many of these business types tend to require the set-up of a high risk merchant account, a safer alternative that e-commerce merchants are generally opting for. Below is a list of the important terminology that every e-commerce merchant should get familiar with.
Anti-Fraud Security System: These provide additional security when programming payments from companies like Visa and MasterCard. Anti-fraud security systems help to reduce and prevent credit card fraud.
Authorization Fee: This is charged whenever the e-commerce merchant's credit card processing service digitally addresses the acquiring bank, and still stands even if the transaction, for whatever reason, is cancelled.
Chargeback: Although these are typically the result of credit card fraud, they often occur when a credit card holder applies for a refund to his/her card issuer or bank because they are unsatisfied with the product or service they purchased.
Chargeback Fee: This is bad news for many people with an e-Commerce merchant account. A chargeback fee is usually charged by the bank when someone applies for a chargeback, due to the hassle involved in settling it. There are ways for merchants to minimize chargebacks, so it's definitely worth doing some research.
CNP (Card Not Present) Transaction: A card-not-present (CNP) transaction occurs when the cardholder is not physically present during the transaction. These tend to happen at online resources when the credit card holder is remotely located, or during over-the-phone purchases.
Credit Card Fraud: This is the situation in which an e-Commerce merchant or a merchant's automated shopping cart system is deceived by hacking, spoofing or identity theft into shipping items or rendering services that will not be paid for, or will be charged back. Credit card fraud is a huge risk for merchants to face, but luckily there are ways to prevent it from occurring.
Discount Rate: A discount rate is a mark-up on, usually, a single transacted amount of money. For example, if the merchant account provider has set the discount rate to 2.3% and the e-commerce merchant's gateway processes a $100 transaction, the merchant will be charged $2.30 by the bank or service provider.
e-Commerce: e-Commerce is to do business online, and usually involves buying and/or selling goods over the Internet. The industry is now so big that there are millions of web stores online, all of which sell a variety of products and/or services. An e-Commerce merchant is the online business owner or administrator.
High-Risk Merchant Account: This is a special type of account that is typically used by e-Commerce merchants who own 'high-risk' businesses. These include online gambling sites, online dating sites and adult sites, to name but a few. A high-risk merchant account involves lower chargeback fees and better chargeback policies, but higher rates and fees to compensate this risk.
Holdback/Security Deposit: This is used to protect e-Commerce merchants from factors that may lead to huge expenditure, including chargeback fund losses. The size of this fee is usually a percentage of the total transactions and is re-calculated periodically.
Mail Order/Telephone Order (MOTO): This is a card-not-present (CNP) transaction that is conducted via e-mail or over the phone, and involves the e-Commerce merchant manually entering the customer's credit card details that they have provided. The gateway then handles the rest of the processing.
Membership Fee:  A membership fee is the monthly fee charged for the rental of the credit card processing gateway and/or the merchant account provider's services. However, not all merchant account providers charge this.
Merchant Account: Having this type of account enables merchants to accept and process credit and debit cards via card-not-present (CNP) transactions, and is usually provided by an e-Commerce merchant account provider or a merchant bank. There are a range of different accounts available that merchants can choose from.
Merchant Account Provider: This is either a bank or an affiliated company who provide merchant accounts and credit card processing services for merchants. Their credit card processing terms, rates and fees all vary depending on which provider a merchant chooses. Popular providers are GSPay.com, 2Checkout, and Viaklix, which is owned by U.S. Bank.
Monthly Minimum Fee: A monthly minimum fee is the minimum amount of credit card gateway fees that an e-Commerce merchant is required to pay every month. When failing to meet the criteria of the fee and paying just a partial amount, the merchant is then usually charged the additional difference.
Offshore/International Merchant Account: These accounts are based outside of the merchant's country and usually offer lower terms, lower risks, and more flexible policies and conditions. Usually, the international merchant account provider is situated, for example, in the U.S., and the credit card processing bank is located in another country. It is the providers' job to handle all negotiations with the merchant bank.
One-Click Buy: This is a term used to describe when customers register their credit/debit card details on a website only once, therefore reducing the hassle of having to re-enter this information when making another purchase in the future.
Payment Gateway: A payment gateway is used to securely encrypt financial data transmitted over the Internet, and the processor goes through all the credit card processing stages (approval, charging etc.) in a mere few seconds.
Payout: This is a term used to denote the transfer of the total revenues from the e-Commerce merchant account bank to the merchant themself. They are made on a periodical basis.
Pharmacy Merchant Account: A pharmacy merchant account serves the fast-growing online pharmaceutical market, and comes under a special sub-type of a high-risk merchant account. They are better than general high-risk accounts because expenses are cut down, due to the specifics of this e-Commerce business.
Setup Fee: Sometimes referred to as a 'sign-up fee', a setup fee is charged one time for the review and approval of the e-Commerce merchant for a merchant account.
Shopping Cart Script/System: A shopping cart script is a pre-approved coded script which is integrated into an e-Commerce merchant's website. It handles all of the processes, both pre-transaction and post-transaction. Popular scripts are CubeCart, ZenCart, Shop-Script, OSCommerce and more.
SSL Encryption: This is one of the most powerful encryption algorithms used today, and is always used in credit card processing gateways and e-Commerce shopping cart scripts. It is used at each stage of a credit card payment transaction.
Statement Fee: A statement fee is charged monthly for the statistical information that the processing bank provides. This information includes totals, a list of single payments, and are handy to keep track of incomes and expenses.
Support Fee: A support fee is generally charged on an annual basis for the support and information services rendered by the merchant account provider. After paying this fee, the e-Commerce merchant then has the privilege of being able to turn to the provider if they ever need any help or support. Luckily, some providers offer this free of charge.
Terminated Merchant File (TMF): This is a status of an e-Commerce merchant which makes it very difficult for a merchant to apply for and get approved for another merchant account at a different bank or merchant services provider. This status is usually acquired as the result of abuse or not complying with the rules, guidelines, terms and policies set by the provider.
Third Party Merchant Account: This is an account in which a number of e-Commerce merchants share one account simultaneously. One credit card processing service will typically offer a variety of third party schemes, offering different types of businesses the best conditions for them and their e-Commerce.
Transaction Fee: A transaction fee is charged on a per-transaction basis, regardless of the amount of money being processed.
Virtual Terminal (VT): A virtual terminal or VT is an application system used to host terminals on the Internet for multiple users. They allow e-Commerce merchants to remotely connect to their credit card payment gateways to conduct a transaction, gather information or verify credit card details.
Volume Cap/Minimum: Although some account providers do not have these, this is the maximum/minimum amount of money that has to be processed by an e-Commerce merchant's payment gateway each month. A merchant can be terminated for not meeting these requirements.
Wire Transfer Fee: A wire transfer fee is charged when an e-Commerce merchant wishes to get his/her revenue transferred to another local or international bank.
For a Merchant Account, contact The High Risk Guys Today!