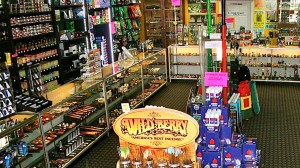 Tobacco and smoke shops are commonly found across the United States. However, they now have competition. A growing number of local tobacco users now are making regular pilgrimages to get a different sort of nicotine supply at the small but trendy shops that specialize in electronic cigarettes, or e-cigs. The devices are designed to mimic the experience of smoking, but they function quite differently from conventional cigarettes. In 2013, e-cigs sales were nearly $1 billion US dollars. While there is some controversy surrounding these new products, they present a great opportunity for businesses to gain new customers. While these are a popular new product, it can be tough to find an electronic cigarette merchant account.
The tobacco industry has long searched for a holy grail; a product that would give smokers their nicotine fix without also causing disease and death. The jury is still out on whether e-cigs could be that change. Public health groups are extremely skeptical, but few doubt that the technology represents a potential change. E-cigs do not burn tobacco to produce smoke. The battery-powered devices electronically heat a liquid solution, producing a fine mist of water vapor, nicotine and artificial flavorings that is inhaled by the smoker.
Cigarette shops in general can fall under the category of "high risk". A "high risk" business is not necessarily a bad business, but these businesses are more prone to closures and the risk of legal issues. Because of this, it can be tricky for business owners to find processors and merchant accounts.
Luckily, there are many companies that have realized that these businesses are not a downward spiral, and offer merchant account services to them. However, you must be sure to read the fine print, as some merchant service providers charge higher fees to those who operate "high risk" businesses.
Only time will tell if e-cigs are here to stay. However, their sales are steadily growing throughout the United States, and this is the perfect time to invest in a business that sales e-cigs. While there are risks involved, such as finding the perfect e-cigarette merchant account, the overall profit you can gain from the e-cig sales can easily outweigh it.
Need a e-cig merchant account?