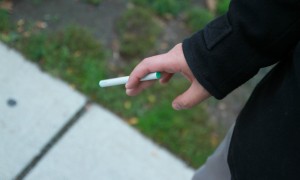 E-Cigs are turning into an alternative to cigarettes, which makes some happy and some angry. While merchants and suppliers are happy, lawmakers are fuming mad, due to its uncertain health effects. This is the time for the e-cig merchants and vendors to unite, and hold a united front in this uncertain time for the industry.
E-cigs are electronic cigarettes, thought they technically are not a cigarette. Instead of lighting a tobacco stick and inhaling nicotine, tar, and tobacco, an e-cig is ran off an electrical charge. These little gadgets are usually plugged into a computer via USB cord to charge. Instead of inhaling tar and tobacco, you instead inhale a "vapor" that may contain nicotine. A big difference in tobacco cigarettes versus e-cigs is that nicotine is optional. There are many vapor options available, from full-flavored with nicotine, to fruit-flavored without nicotine. If you can imagine it, a vapor probably comes in the flavor. These flavors are point of debate for government officials, as they believe that these flavors would attract underage teenagers to try them. While it is possible, there is not data to back up their claims, and the majority of merchants limit their e-cig sales to those over the age of 18, just like tobacco cigarettes. E-cigs are a multi-million dollar industry in the United States alone, and this is the perfect time to get in on the action.
However, it can be hard to become an e-cig merchant. The biggest hurdle is finding a merchant account, as e-cig merchants are considered "high risk" merchants. This means that they are at a higher risk of fraudulent activity compared to other companies. You need a company that specializes in high risk merchants, such as highrisk-merchantaccount.com. Highrisk-merchantaccount.com, or HRG, is one of the best options for high risk companies. We have experience in the e-cig merchant industry that others do not. We understand that there may be high influxes of transactions, and we know how to recognize when a transaction is truly fraudulent. We are familiar with the goings on in the e-cig industry, and often attend vapor product conferences. For your e-cig merchant account needs, look no further than HRG.
The e-cig industry is booming, even after government attempts to keep it down. This is the perfect time to become an e-cig merchant; however, you need the right merchant account processor. You need someone who is skilled in e-cig accounts, such as HRG, to help keep you abreast of any new changes the government is trying to push onto the e-cig industry.
For more information, check below