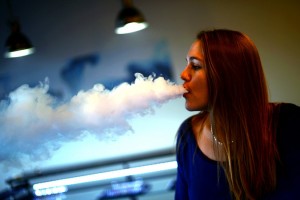 In February there was a press release from the Federal Centers of Disease Control and Prevention indicating that the vapor produced by e-cigarettes has by far fewer toxins than regular cigarette smoke.  But, the study also indicated there needed to be further study done on the effects of long term health effects. Currently, the Federal Food and Drug Administration proposed a rule that would allow it to regulate e-cigarettes.
Analysis show that the Smoke Free Alternatives Trade Association, enforce a federal taxation for e-cigarettes to assist in a decrease of 20% in sales revenue. Electronic cigarette entrepreneurs believe this is unfair and unwarranted.
E-cigarette smokers in the U.S. contribute $1.5-billion dollars annually in cigarette sales. And many stand by the belief that the vapor devices are the only thing that has given them the will power to kick the nicotine habit.
E-cigarette manufactures, are adamantly opposed to legislators trying to impose taxes on e-cigarettes.
Governor Chris Christie has already included a proposal tax on e-cigarettes in his 2015 budget making them as pricey as traditional cigarettes. This new tax hike will bring in an estimated $35- million dollars for the state.
Currently, we still do not know the long term impact of e-cigarettes and there may be a good chance this product may impact the lives of nicotine addicts in a positive way. It may not be such a good idea to jump on the e-cigarette tax band wagon. Do legislators really want nicotine addicts to return to their traditional habits?
Well the FDA has not given a final ruling. They are still unsure whether e-cigarettes will lead to the same health problems conventional cigarettes do.  With that being said a door has been opened allowing regulation and taxation to come to fruition.
Individuals wonder if taxes will stomp out e-cigarettes. Well for now the sale of e-cigarettes are on the rise. Others wonder if this is the legislator's way of preparing for the future when smokers stop buying conventional cigarettes (they lose those taxes) and start buying e-cigarettes (they want to replace lost tax money).
Bonnie Herzog of Wells Fargo Securities believes that as long as regulations do not slow down the e-cigarette industry, e-cigarette usage could possibly exceed the use of conventional cigarettes. She also believes that this product will be worth about $1.85-billion, and that it will in time replace combustible cigarettes.
The mind behind the Cigirex product Mr. Cardiff is proving just that, his annual growth has fluctuated between 100% and 300% over just six years. Cigirex, disposable e-cigarettes prices range from $6.95 to $8.95 which is equivalent to a pack of cigarettes.
Mr. Verleur of VMR doubled their sales last year making their e-cigarette #3 in the world with sales figures in the nine figure range. He is very confident that this new invention is a welcomed addition to our society and it can assist those who are struggling to live a healthier life style.
Many individuals use e-cigarette to wean themselves off cigarettes or to puff and not have the cigarette smell either way these devices cannot be marketed as smoking-cessation tools. But, the real question here is why would a state want to discourage anyone from trying to kick conventional hazardous cigarettes by Imposing Taxes?