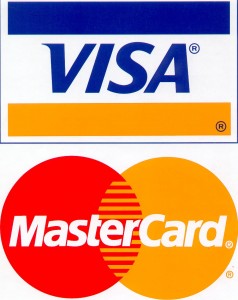 Visa and MasterCard are picking up the pace on their sluggish response to multiple high-profile credit card security breaches. Growing political pressure has led to Visa and MasterCard launching a 'cross-industry group' with the mandate of improving payment security.
Cross-Industry Security
The credit card payment network titans held join news releases where they announced the new cross-industry group. Visa and MasterCard are inviting banks, credit unions, merchant acquirers, retailers, and point-of-sale terminal makers to join in a mutually beneficial discussion about security.
The initiative comes before the US moves towards new credit card security technology. Visa and MasterCard are soon to introduce EMV (Europay-MasterCard-Visa) chip technology to the US will be the primary focus of the new security forum.
Other topics for the forum to discuss include tokenization, point-to-point encryption, and the broader needs of the US region. These discussions aim to reduce fraud and security breaches through collaboration and cooperation through the exchange of ideas.
Political Pressure Grows
Breaches in major retailers Target, Neiman Marcus, the craft store chain Michaels, and the online stores of Sally Beauty and Smucker's has gotten the attention of Congress. Congress is holding an increasing number of hearings about data security as Americans are vulnerable to fraud and identity theft.
Critics of MasterCard and Visa claim that the security void is the fault of the credit giants. A broken system that needs regulation and improvement from initiatives, including the Federal Reserve, that lie outside of MasterCard and Visa.
While the cross-industry security group is a step in the right direction, Visa and MasterCard are not the only initiatives with the goal of beefing up credit payment security. As multiple retail-related industries seek to resolve the security vulnerabilities, Visa and MasterCard are trying to take leadership through this security forum and prevent mis-handling from industry outsiders like Congress.

Get Started Now