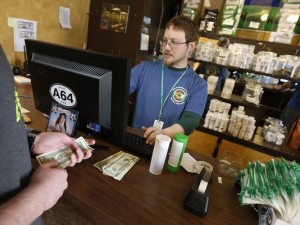 Colorado marijuana retailers are facing a tough challenge, thanks to the way banks and merchant account providers view their business. While there is legislation in the works, Congress does not seem to be motivated to pass anything to support the legalized marijuana industry. Banks and traditional merchant account processors are hesitant to deal with these companies, as they consider them "high risk", due to their higher risk or fraudulent activity. However, all hope is not lost for obtaining a merchant account.
Banks and traditional merchant account providers are not just turning away marijuana retailers. They are turning away all businesses they considered to be "high risk". These are your normal, everyday businesses, such as penny auction websites, e-cig merchants, and collection agencies. All of these businesses are lucrative, and have large influxes of transactions. This large influx is what throws off traditional account providers, as they tend to think that some of these will be fraudulent. Instead of taking the risk, they simply shut out these companies. It is possible to obtain a marijuana merchant account. You simply need to look for a merchant account provider that specializes in marijuana merchant accounts.
HRG is highrisk-merchantaccount.com, and we know the ins, outs, and risks of operating a marijuana retail business. Even though it is legal in Colorado, there is still a lot of tape to go through to legalize your business. We also know that your business is likely to have a high volume of transaction, and that is okay. You will not be penalized for it. Our rates are affordable for "high risk" merchants, and we offer the best software, security, and terminals to help your business. For your marijuana merchant account needs, look no further than HRG.
Without help from Congress, legalized marijuana retailers may be shut out from getting a merchant account from a bank or traditional merchant account providers. It can be frustrating to merchants; however, there are other options to help your marijuana business. For your marijuana merchant account needs, check out HRG.
For a Marijuana Merchant Account from The High Risk Guys, click below