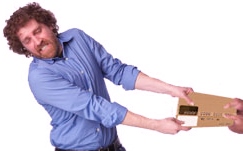 Getting a merchant account plays a vital role for ecommerce businesses in adding a professional image, convenience and an ability to earn more revenue. For new ecommerce businesses, online credit card processing may look confusing but with knowledge and experience, business owners can find the ways to keep the flow of online cash without any hitch. One of the most important aspects to learn about as an online merchant is chargeback and what to do when you see it come in.
What is a Chargeback?
It is simple. If a customer files a complaint at issuing back about the fraudulent transaction through the customer's credit card on any ecommerce website, the bank is obliged to investigate the transaction and all parties involved. If the merchant fails to prove the legitimacy of the transaction, the bank not only refunds the entire amount from the merchant's account but it also deducts the chargeback amount that varies from $0 to $100. This is why chargeback prevention is an important aspect for any ecommerce business in order to keep their bottom line intact and consistent.
Is Chargeback Prevention Possible?
With the increased use of credit cards, Chargeback Prevention is becoming a key for online merchants for better financial results. Frequent chargebacks not only result in drops in your profits, but you also have to bear with the services and products that are already delivered against the transaction. All in all, it is a double loss for the online merchants. Above all, if a merchant account is receiving too many chargebacks, Credit Cards Company will not hesitate to label the merchant as fraudulent.
Even if merchants win a case against chargeback, the time and efforts consumed by the process is often damaging for the business. So if a chargeback is filed against a merchant, no matter if a merchant wins or loses against the case, a merchant is always at loss. To avoid a chargeback, as a merchant you must know about your rights and technicalities involved in details.
The cardholder has two years to file a case, this means, every sold item or service at your website against credit card transaction is reversible. After two years, you are out of the danger zone.
It is in interest of banks to pursue card holder's complaints as they can not only fine merchants chargeback fees, but they can also hold the remittance of merchants for three months, or they can choose to label you "risky" to simply increase their commission. Yes, most Banks are mean.
A customer is entitled for a chargeback if the product is not delivered, the item is not the same that was purchased, or the product is damaged. Merchants are not entitled to pay back anything if the customer simply doesn't like the product.
The merchants are allowed a certain ratio of chargebacks by the banks that in most cases are 1% of the total transactions. In cases of more than 1% chargebacks, the bank can close the merchant account by labeling it fraudulent.
It may look like a horror story for merchants but chargeback prevention is a possibility if you are an honest merchant, have an effective customer support that takes customer complaint seriously and provides best secure credit card transaction facilities to customers to avoid any misuse.